A business card is not just a piece of paper you give to your clients containing your contact details. Business card is your ad, a billboard much larger than billboards in high traffic areas despite it is actually physically smaller. And it needs to get attention, to turn your clients into advocates.
I am primarily a software engineer with a lot of projects I'm working on, but somehow I still find a little time to realize my ideas that will provide recognition to my work and business. That includes some of really beautiful logos I created for services my agency provides together with eye-catching web design for web sites in BlicKlik - Internet Marketing Network.
Below are some of geeky business cards I created. All business cards are made using GIMP image editor, completely free software included in almost all GNU/Linux distributions and powerful alternative for proprietary image manipulation programs.
Business Card for INFORBIRO - Information Technology Agency with QR Code
Image
Use your mobile phone with QR reader, direct it to the QR code on the business card and INFORBIRO homepage will be opened in the phone's browsers. Notice the Inforbiro logo inserted into the QR code in upper left corner. (Read here how to add logo to QR code)
Business Card for BlicKlik Internet Marketing and Advertising
Image
Business card imitating a search engine result list with suggested site for entered keywords.
My Personal The Geekiest Business Card
Image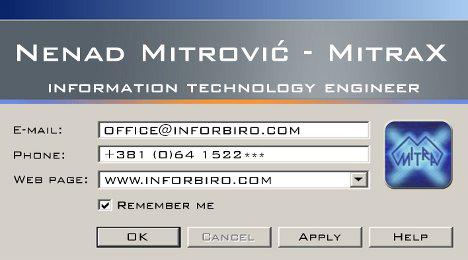 Another unique business card I created several years ago after I had published MitraX GNU/Linux distribution. I still use it but with new contact details. Pay attention to checked "Remember me" option and disabled "Cancel" button ;)
The simplest business card for Inforbiro
Image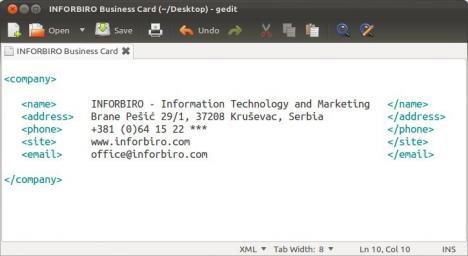 The business card is actually XML code in GEdit, GNOME text editor, in Ubuntu GNU/Linux distribution.
About Author
Nenad Mitrovic - MitraX is founder and owner of INFORBIRO - Information Technology Agency running successfully for almost five years. He is also creator of the first Serbian live CD GNU/Linux distribution named MitraX (hence comes his nickname).